In the WWII session your class will look at the history of HMS Wellington as a convoy protection ship and her role in helping to secure food imports into the UK. The children will engage in activities which help to support their understanding of the need for rationing during wartime.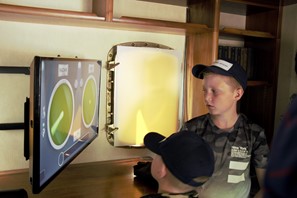 History Subject Content Coverage KS2
A local history study, how aspects of national history are reflected in the locality
Study of an aspect of history from a period dating beyond 1066 that is significant in the locality
A significant turning point in history such as the Battle of the Atlantic and how it was vital in securing food supplies.
History Key Skills KS2
Gain historical perspective by placing their growing knowledge into different contexts, understanding the connections between local, regional, national and international history.
To understand the vital importance of the merchant fleet keeping Britain fed and fuelled during WW2
To understand the dangers faced by merchant ships during WWII
To understand how the Royal Navy protected and aided the Merchant fleet.
To learn about the HMS Wellington during WWII – where she performed her convoy service and what goods were being shipped on those routes
To understand why goods had to be rationed during WWII, to learn what a week's worth of rations looked like and how children would have been affected and lived during wartime
To consider how people at home, including children could help the war effort.
HOW TO BOOK YOUR SESSION
Please check the dates available for your session by clicking on CHECK AVAILABLE DATES below
Select the date and time of your preferred sessions then click BOOK HERE where you will be taken to a booking form
Once the form has been submitted we will be in touch with you to confirm final details